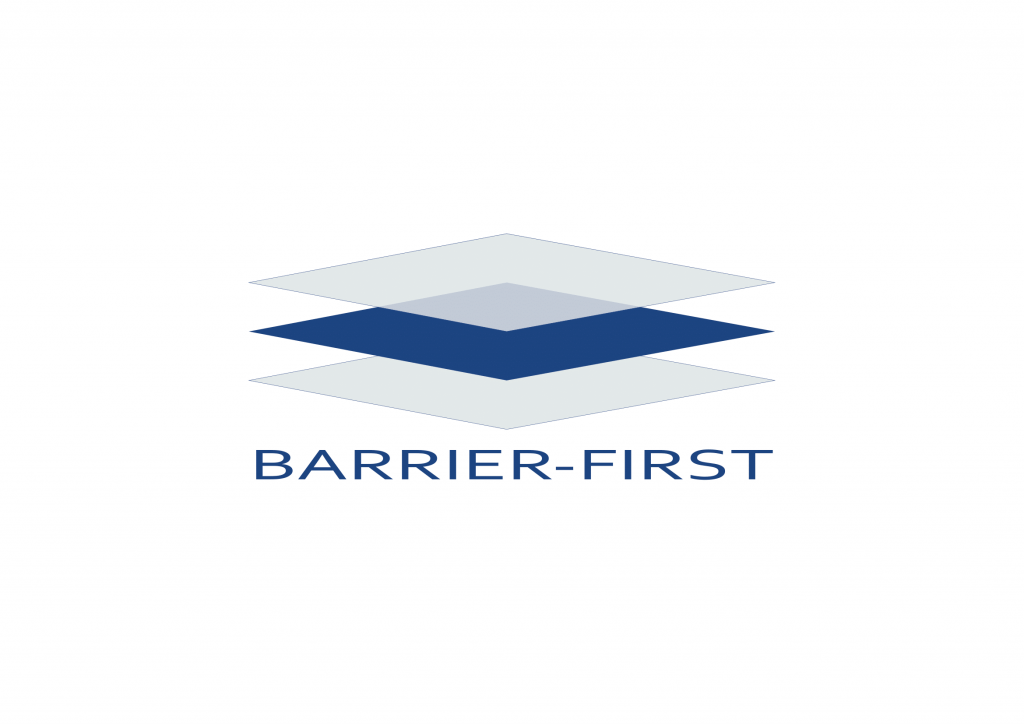 Scottish Manufacturer Transcal expands its current business activities to facilitate in-house production and is delighted to announce its collaboration with the UK Government to produce circa 1.2 million face coverings per month, to support increasing public demands and ultimately avoid any impact on the supply of medical face masks for NHS, front line and key workers.
The collaborations objectives are to have an assured source of reliable quality face coverings for the UK public which removes the logistics, quality and pricing vagaries of overseas suppliers. Recent guidance from World Health Organisation and UK Government regulations, plus the devolved Governments regulations within the UK, all stipulate a key role for face coverings.
Transcal are proud to support the Nation's fight against the pandemic, bringing its wealth of manufacturing experience using fabrics and innovative processes. While assured, quality supply is key to the product offer, prices are competitive and on a not for profit basis.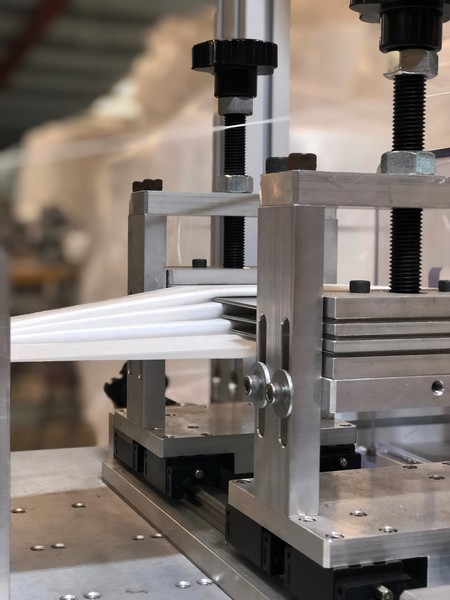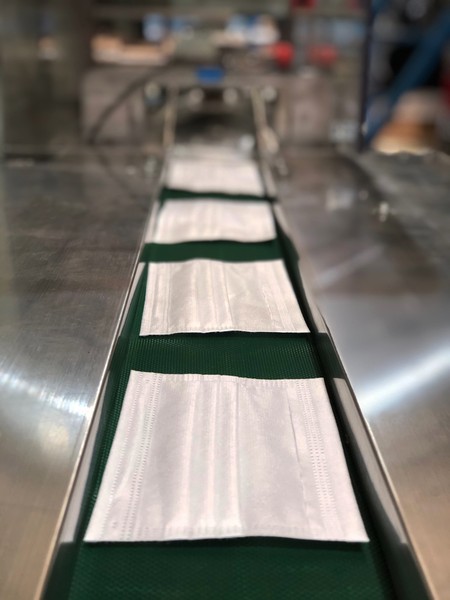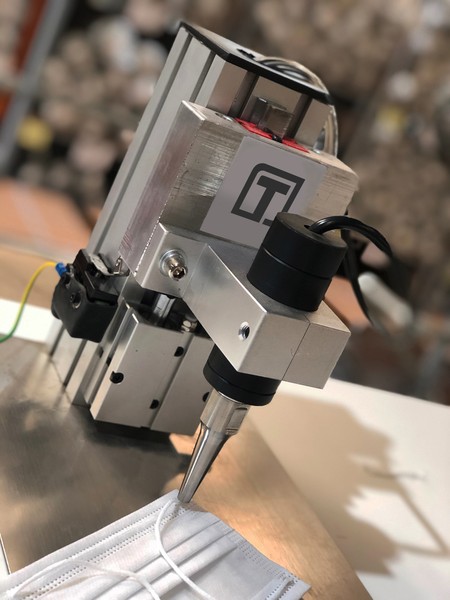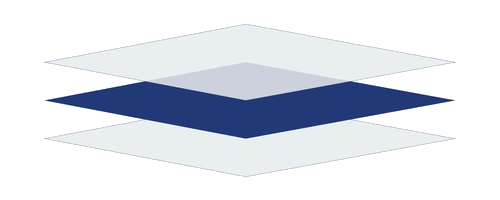 Innovative Safety
Highly effective melt blown polypropylene filtration inner layer encapsulated within two spun bond polypropylene outer layers
UV sterilized
Automatically hygienically wrapped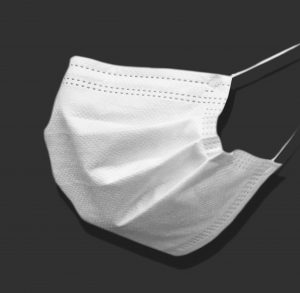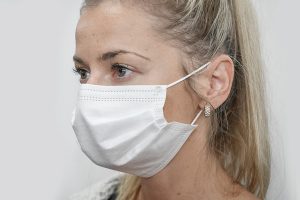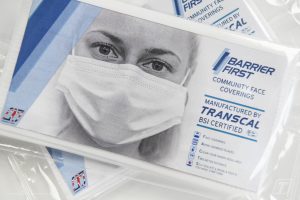 Conforms to AFNOR S76 001
Inhalation @ 30l/min
Inhalation @ 95 l/min
Exhale @ 160 l/min
Filtration (NaCl Penetration) >70%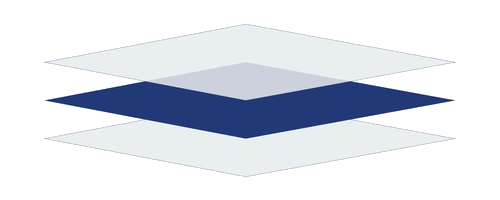 Key Benefits:
Capacity to manufacture 1.2m face coverings per week.
The materials and manufacturing process does not impact on the supply of medical grade masks for NHS, front-line and key workers.
Transcal's face coverings are produced in Livingston, by a UK owned business.
Stringent quality controls and in compliance with ISO 9001 quality standards giving full product traceability.
Very low carbon footprint with quick assured, customer response.
Tested and Approved Materials which are 100% UK sourced.
Products sterilised by UV light pre automatic and hygienic wrapping.
May be branded if required.
Competitively priced on a "not for profit" basis.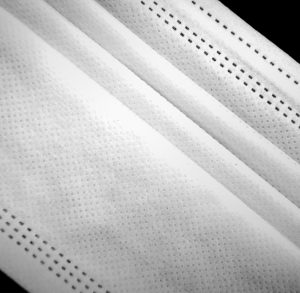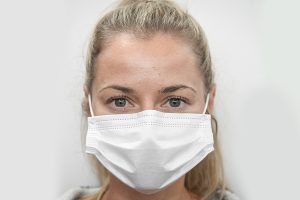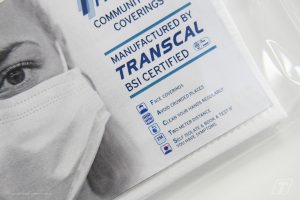 Orders for the coverings have already been placed by a number of public and private sector buyers. The government and Transcal are in collaborative discussions with UK business sectors for the supply of the Barrier-First community face coverings. Transcal's aim is to support UK business and UK public sectors to ensure staff, customers, and their families are protected against COVID-19.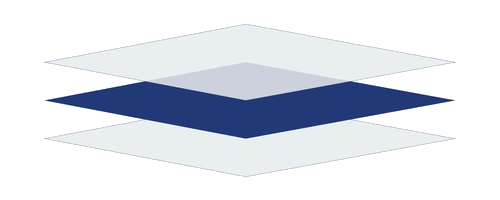 Guidance for Use:
Face coverings should be fitted correctly ensuring your nose and chin are covered allowing you to breathe comfortably.
Wash your hands thoroughly with soap and water for 20 seconds or use hand sanitizer before putting on a face covering.
The face covering should fit comfortably but securely against the side of the face.
Avoid touching the part of the face covering in contact with your mouth and nose.
Secure behind the ears with the elastic ear loops.
Before removing wash your hands with soap and water for 20 seconds or use hand sanitizer.
Only handle the ear loops.
Dispose of the face covering in a safe and responsible manner, not recyclable.
Once disposed of wash your hands with soap and water for 20 seconds or use hand sanitizer.
More guidance can be obtained from www.gov.uk
Further Information
Single use, light weight face covering. Store unused masks in a clean, sealed bag away from direct sunlight. Change covering if it becomes damp or if you have touched it. Avoid taking it off and putting it back on a lot in quick succession (for example, when leaving and entering shops on a high street). Do not give your face covering to anyone else to use. Not for medical use.
Transcal's Community Face Coverings are to be used in conjunction with the latest government Covid-19 guidelines and in line with social distancing regulations, more information can be found on the government website (www.gov.uk).